InstantScouting 2017 Top NAIA Senior Defensive Lineman & Linebackers List
Click here to get the latest on all pro leagues and open tryout information!
Sign up, get scouted and start your pro career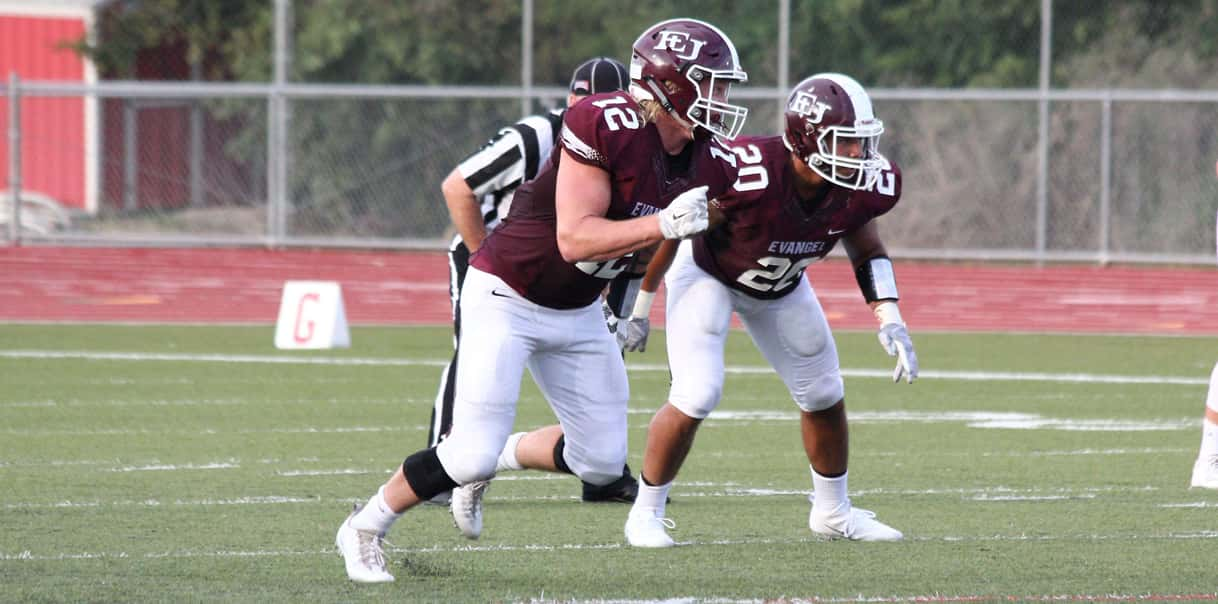 Headlining the InstantScouting 2017 Top National Association of Intercollegiate Athletics Senior Defensive Lineman & Linebackers List is Josh Evans of Evangel University.
Evans finished his senior season setting the single-season school record for tackles for a loss and fourth most sacks in a single-season. A native of Pleasant Hope, Mo., Evans also moved to the top of the all-time tackles for a loss list with 44.5 and ranks fifth in school history with 19 total sacks.
Position, Name, Class, School, Hometown, Ht & Wt
DL Dominick Bell, Senior, Oklahoma Panhandle State University, Long Beach, California, 5'11, 240 lbs
Bell was named Central States Football League Defensive Player of the Week9 (September 4th, 2017) after attacking the War Hawks with 2.5 sacks and 3.5 tackles for loss. The senior collected ten tackles in the game with seven solos and three assists; he also forced one fumble to keep McMurry out of the end zone on a goal line standoff.
DL Armando Gauger, Senior, Southern Oregon University, Atwater, California, 6'1, 230 lbs
After becoming a starter at defensive end in the 2015 postseason, took over the job for good and played in every game during his junior season… Recorded 38 tackles, with 22 solo and four for losses… Ranked fifth on the team with three sacks — all in a four-game stretch from Sept. 24 to Oct. 15… Made a season-high six tackles on Oct. 15 against Eastern Oregon, and was credited with a quarterback hurry and a sack in the same contest… Named to the Academic All-Frontier Conference team for the second year in a row.
DL Josh Evans, Senior, Evangel University, Pleasant Hope, Missouri, 6'1, 215 lbs
Evans led the nation in forced fumbles and was fifth with 12.5 sacks and seventh with 21 tackles for a loss as both numbers also led the conference. A native of Pleasant Hope, Missouri, Evans was named First Team All-Heart of America after earning Honorable Mention accolades last season.
LB Nicholas McBeain, Senior, Valley City State University, Shakopee, Minnesota, 6'1, 238 lbs
A native of Shakopee, Minn., McBeain is the all-time leading tackler in VCSU history. McBeain posted a school-record 188 tackles last season and led the NAIA in tackles per game (18.8). He broke five different season and career tackle records at VCSU during the 2016 season. His 446 career tackles are 80 more than the second best career total in Viking football history.
McBeain was named 2nd Team AFCA NAIA All-American and was a finalist for the Cliff Harris Award, which recognizes the best small college defensive player in the nation. He was also named 1st Team All Conference last season and has earned All Conference awards each of his three seasons at VCSU.
LB Wyatt Beebe, Senior, Avila University, Nixa, Missouri, 5'11, 200 lbs
Beebe finished with a program record 147 tackles, while Wiggins finished with 111 tackles, third most in a season all-time. Beebe and Wiggins became the first pair of Eagles to finish first and second in the Heart in tackles, and are also just the second and third to eclipse 100 tackles in a single season in program history.
LB Garrett Updegraft, Senior, Kansas Wesleyan University, Meridian, Idaho, 5'11, 215 lbs
Updegraft led the Coyotes in tackles in 2016 with 99 stops. He had 13.5 tackles for loss and five sacks on the season. He ranked sixth in the conference in total tackles and fifth in the conference in tackles for loss. He ranked No. 33 in the NAIA in tackles per game (9.0) and No. 46 in tackles for loss.
LB Jake Averhart, Senior, Union College, Corner, Alabama, 6'2, 220 lbs
Averhart produced his best season to date, finishing with 84 total tackles. He recorded 0.5 sacks and 4.0 tackles for a loss to go along with one interception and four pass breakups.
InstantScouting is a Canadian based independent global scouting service that is committed to helping aspiring athletes at the collegiate and free agent level showcase their abilities to professional football teams in North America, Europe, Asia, South America and Australia. We offer coaches and professional scouts the opportunity to view some of the best football talent from around the world.
InstantScouting has selected its first Top Seniors and currently selects teams in FCS, Division 2, Division 3, NAIA & USports. What makes these teams so special is that they are the only ones chosen exclusively by the scouts who work to create professional football opportunities for athletes.