InstantScouting 2018 Top U-Sports Senior Defensive Backs List
Click here to get the latest on all pro leagues and open tryout information!
Sign up, get scouted and start your pro career!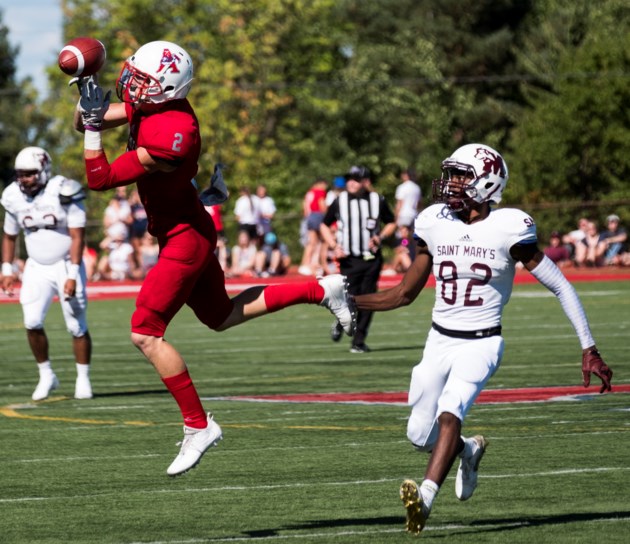 Headlining the InstantScouting 2018 Top U-Sports Senior Defensive Backs List is the All-Canadian Defensive Back out of Acadia University, Brandon Jennings.
Free safety Brandon Jennings (St. Albert, Alta.) was the most decorated Axeman last season, with several accolades including being named as an AUS All-Star and second team U SPORTS All-Canadian. One of the top free safeties in the country, Jennings also handled the punting and field goal kicking duties last season. Jennings had 10 field goals last season.
Position, Name, Class, School, Hometown, Ht & Wt
DB Nicholas Parisotto, Senior (4th year), University of Guelph, Guelph, Ontario, 6'0, 195 lbs
Parisotto was a steady hand for Guelph to rely on in 2016 in their secondary. The defensive back suited up in all eight games for the Gryphons collecting 29.5 total tackles.
DB Godfrey Onyeka, Senior (4th year), Wilfrid Laurier University, Brampton, Ontario, 6'2, 200 lbs
Godfrey was one of two Onyeka's to lead Laurier's defence in 2016 – his cousin Nakas led the team in total tackles with 59.5 while Godfrey collected 40.5 and four interceptions. The 6-foot-3, 205-pound defensive back played in all eight regular season games with the Golden Hawks and three playoff games, including the team's Yates Cup victory.
DB Brandon Jennings, Senior (4th year), Acadia University, St. Albert, Alberta, 6'3, 185 lbs
Acadia's Brandon Jennings was named second team All-Canadian free safety.
Jennings averaged nearly five tackles per game this season, recording 39 tackles in eight games. Acadia's stats credit Jennings with 14 assists, six interceptions and one fumble recovery.
DB Ian Lawrence, Senior (4th year), York University, Paris, Ontario, 6'0, 180 lbs
Lawrence has played in every regular-season game in his three years with the program. He has amassed a total of 72.5 tackles, including a career-high of 32 this past year that ranked him sixth on the team. For his career he also has six interceptions, 10 pass break-ups, one forced fumble and one fumble recovery.
DB Rees Paterson, Senior (4th year), York University, Sherwood Park, Alberta, 5'11, 185 lbs
Paterson, from Sherwood Park, Alta., has been a regular starter for the Lions in his three seasons. He was named to the OUA all-rookie team in his first year and also earned York's Jeff Johnson Rookie of the Year award after ranking fifth on the team in total tackles. Throughout his career he has played in all 24 regular season games and amassed 77 total tackles and four interceptions.
Paterson also has experience on the international stage as a member of the Canadian U19 team at the 2012 world championships. That squad upset the United States for the first time en route to winning the gold medal.
DB AJ Blackwell, Senior (4th year), University of British Columbia, North Vancouver, British Columbia, 5'11, 180 lbs
Blackwell was a highly decorated tailback in high school and for the first two years of his varsity career, but has made a successful move to defensive back. He led UBC in tackles with 71, forced five fumbles and 2 blocked kicks in 2016.
DB Nate Rostek, Senior (4th year), Mount Allison University, Stillwater Lake, Nova Scotia, 6'0, 200 lbs
Rostek recorded one assisted tackle in a losing effort as a member of the East team in the East-West Bowl game in May 2017.
DB Wesley Mann, Senior (4th year), Queens University, Almonte, Ontario, 5'11, 190 lbs
Mann, an Economics major, is entering his fourth season with the Gaels and is coming off an OUA All-Star performance with the Gaels. Mann tied for the conference lead in interceptions recording five and returning one for a touchdown in the Gaels 55-5 homecoming victory over Windsor. He had another two interception game in the season opener at Laurier and recorded a career-high 10 total tackles in the Gaels opening game at Richardson Stadium against Western, a game that was nationally broadcasted on City.
DB Gabriel Ouellet, Senior (4th year), University of Laval, Rivière-du-Loup, Quebec, 5'10, 190 lbs
Finished the season with 24.5 tackles, 1 sack, 5 interceptions and 3 pass break ups.
DB Nathaniel Fermin, Senior (4th year), St. Francis Xavier, Pickering, Ontario, 5'11, 180 lbs
Help lead the X-Men defense with 53 tackles and 2 interceptions.
DB Isaiah Guzylak-Messam, Senior (4th year), Wilfrid Laurier University, Hamilton, Ontario, 6'3, 205 lbs
The fourth year student from Hamilton had 28 tackles in seven games along with seven pass breakups, the most in the conference, and two interceptions while earning OUA Second Team All-Star.
DB Jackson Bennett, Senior (4th year), University of Ottawa, Hamilton, Ontario, 6'0, 214 lbs
Winner of the President's Award (defensive player). Bennett had 47 tackles, three interceptions and a sack. He also had 19 returns for 611 yards.
Athletic defender who has return ability too. 4.68-second 40-yard and 4.05 shuttle times at the USports East West Bowl in 2017 prove Bennet can run and change direction quickly.
InstantScouting is a Canadian based independent global scouting service that is committed to helping aspiring athletes at the collegiate and free agent level showcase their abilities to professional football teams in North America, Europe, Asia, South America and Australia. We offer coaches and professional scouts the opportunity to view some of the best football talent from around the world.
InstantScouting has selected its first Top Seniors and currently selects teams in FCS, Division 2, Division 3, NAIA & USports. What makes these teams so special is that they are the only ones chosen exclusively by the scouts who work to create professional football opportunities for athletes.