InstantScouting 2018 Elite Class: NAIA – Defensive Lineman
Click here to get the latest on all pro leagues and open tryout information!
Sign up, get scouted and start your pro career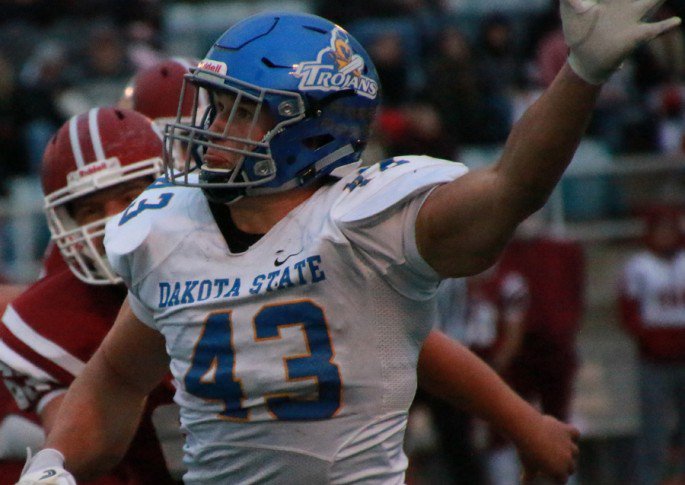 By: Daniel Krywaruczenko , September 18, 2018
Headlining the InstantScouting 2018 Elite Class: NAIA – Defensive Lineman is Dakota State University senior Curt Boeke.
Boeke, 6-foot-5 and 250 lbs., was named to NAIA Football All-America Second Team and North Star Athletic Association Football All-Conference First Team after an impressive 2017 season.  He led the NSAA conference in overall tackles (97), quarterback sacks (8.5) and tackles-for-loss (19.0 tackles-for-loss of 105.3 yards).
Boeke was one of the 23 NAIA finalists for the 2017 Cliff Harris Award for the Trojans.  According to the DakStats-NAIA statistical website, he ranked fifth in the NAIA last season in tackles-for-loss and 14th in sacks per game (0.8 sacks per game) as well as total sacks.
He accumulated 166 tackles during his career at Dakota State.  He also racked up 11 quarterback sacks for 85 yards loss and 27 tackles-for-loss of 133.8 yards.
Position, Name, Class, School, Hometown, Ht & Wt
DL Darius Graves, Senior, Valley City State, Colorado Springs, CO 6'1″ 240
Had 6 tackles for loss and 4 sacks earning 1st Team ALL-NSAA.
DL Curt Boeke, Senior, Dakota State (SD), Clear Lake, SD 6'5″ 250
ALL-NSAA selection led team with 19 tackles for loss with 97 total tackles at Dakota State.
DL Tevin McCoy, Senior, Reinhardt, Carrollton, GA 5'10" 215
Had 9 sacks and 18 tackles for loss at Reinhardt earning all-conference honors.
DL AJ Banks, Senior, Southwestern Warner, Robbins, GA 6'0″ 285
ALL-KCAC selection at DT at Southwestern had 37 tackles with 3 sacks.
DL Evan Sprayberry, Senior, Tabor, Moore, OK 6'2″ 210
AFCA ALL-American recorded 10 sacks at Tabor.
DL Anthony Jackson, Senior, William Penn, Detroit, MI 6'3″ 245
Had 55 total tackles including 14 tackles for loss at William Penn earning ALL-HAAC honors.
DL Austin Bretting, Senior, Hastings, Lincoln, NE 6'2″ 230
ALL-GPAC selection at DE had 41 tackles including 13 tackles for loss on Hastings.
DL Chase Reis, Senior, Morningside, Grand Island, NE 6'1″ 245
Accumulated 38 total tackles including 9 tackles for loss on Morningside.
DL Sean Rogers, Senior, Southern Oregon, Portland, OR 6'5″ 205
Team-leader in tackles for loss (17) and sacks (14) earning ALL-Frontier honors at Southern Oregon.
DL Brandon McCracken, Senior, Grand View, Parkersburg, IA 6'3″ 305
305 pound DT had 34 tackles including 4.5 tackles for loss on his way to earning 2nd-Team ALL-HAAC.
InstantScouting is a Canadian based independent global scouting service that is committed to helping aspiring athletes at the collegiate and free agent level showcase their abilities to professional football teams in North America, Europe, Asia, South America and Australia. We offer coaches and professional scouts the opportunity to view some of the best football talent from around the world.
InstantScouting has selected its fourth annual Elite Class (Previously known as "Top Seniors" and currently selects teams in FBS, FCS, Division 2, Division 3, NAIA & USports. What makes these teams so special is that they are the only ones chosen exclusively by the scouts who work to create professional football opportunities for athletes.