InstantScouting Elite Class Interview Questions- Tevin McCoy, OLB, DE, HB, Reinhardt University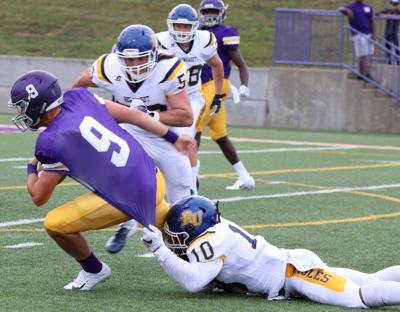 February 10, 2019
McCoy, who was game-planned against all season by opposing offenses, was still third on the Eagles in tackles with 48, including 18.5 stops for-loss and 9.5 sacks. He also intercepted a pass and ran the ball for three touchdowns.
What is your name?
Tevin McCoy
What college do you attend?
Reinhardt
What is your Height/Weight?
5'10" 225
What is your position?
OLB and DE, HB
Where are you from?
Carrollton, GA

What were you looking to get out of your collegiate football experience?
Leave a big impact on team, win a national championship
Who is the best player you competed against in college?
Chadron-Garrett Gilkey
What separates you from other players at your position?
High motor and IQ, attention to detail
List 3 things you feel you need in order to be successful in football?
Coachable, accountable, hard worker
Which pro football player would you compare yourself to? And why?
Von Miller-hand placement, quickness, and getoff
What is your biggest strength?
Finishing plays
What do you feel you need to improve on the most?
Stance
Outside of football, what has been your most memorable college experience?
Special Olympics field day every year, blessed to have the opportunity that we have
If you can play alongside any athlete in the NFL, past or present, who would it be and why?
Khalil Mack-learn from him, in-game strategies and preparation
Who is your biggest inspiration? And why?
Mother-raising 3 kids alone, missing meals for kids

What is your definition of success?
Achieving wealth so that you can help others out-giving back to the community
What interesting fact would you want the world to know about you?
You love all animals-you want a pet tiger