Johnny Manziel: Colin Kaepernick is 'good enough' to be on an NFL roster
Click here to get the latest on all pro leagues and tryout information!
Sign up, get scouted and start your pro career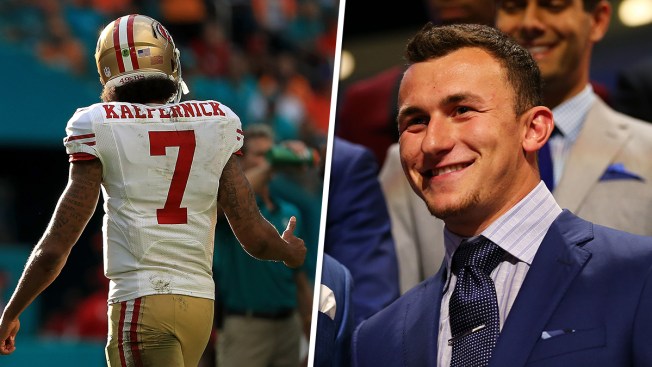 Colin Kaepernick is a better player than Johnny Manziel by a wide margin, but the two quarterbacks do have something in common: Nobody wants them on their team.
For that, Manziel has no one to blame but himself, as his subpar play on the field and behavior away from the field are the reasons why he can't find a team willing to give him another chance. As for Kaepernick, well, his situation is a bit more complicated. He's a starting-caliber quarterback in the NFL — a league that doesn't feature enough starting-caliber quarterbacks to go around — yet he's still a free agent. His inability to get signed likely has to do with his protest last season, when he kneeled during the national anthem.
Manziel's situation might be entirely different than Kaepernick's, but he still sympathizes with him. When Manziel was recently asked by Clay Travis of Outkick the Coverage if Kaepernick is good enough to start in the NFL, Manziel pointed to Kaepernick's history in the league.
"Yeah, even if he's not going to start, he's good enough to be on a roster for sure," Manziel said in a video that was published by TMZ. "That's a guy that if we go back five years, the Ravens are playing the Niners in the Super Bowl and the next year they're playing the Seahawks in the NFC Championship Game. So that's a guy who's got a team to that point multiple years, who may have had a couple down years these past couple of years, but at the same time he has a track record of proving that he can go out and play.
"I don't think his career is done. I think once all the other stuff quiets down a little bit, he'll be OK, even though last year was a little bit of a bizarre year with everything that went on."
Manziel isn't wrong about Kaepernick's history, of course, but it's also worth noting that Kaepernick didn't even play poorly last year on a horrible 49ers team. In 12 games, he completed 59.2 percent of his passes for 2,241 yards for 16 touchdowns, four interceptions, and a 90.7 passer rating. In his career, he has a higher passer rating than current starters like Joe Flacco, Blake Bortles, Brian Hoyer, Josh McCown, and Ryan Tannehill (who is injured).
Still, he can't get a job. Most recently, the Dolphins passed on signing him to bring in Jay Cutler, though that move makes a ton of sense given Cutler's history with Miami coach Adam Gase. Kaepernick has also been connected to teams like the Seahawks and Ravens. Neither has signed him.
As for Manziel, his career appears to be done. Though he met with Saints coach Sean Payton this offseason, that meeting didn't lead to a job. Really, it's tough to blame Manziel's situation on anyone but himself — for his poor play, his constant partying, and the violent incident with his ex-girlfriend. Even he acknowledged that he deserves the blame, saying in July, "I know the situation that I put myself in."
Despite the lack of interest he's generating from NFL teams, don't expect him to pull a Tim Tebow. At least not anytime soon, even if he did get drafted by the Padres in 2014.
"If I get to a point where I know I'm not going to play football or anything like that, and I still feel like I can go make a run at it, maybe," he told Travis. "For right now, I think I'll leave that to Tebow."
This post originally appeared on CBS Sports. Copyright 2017.