Jones gets chance to play pro football with Atlanta Legends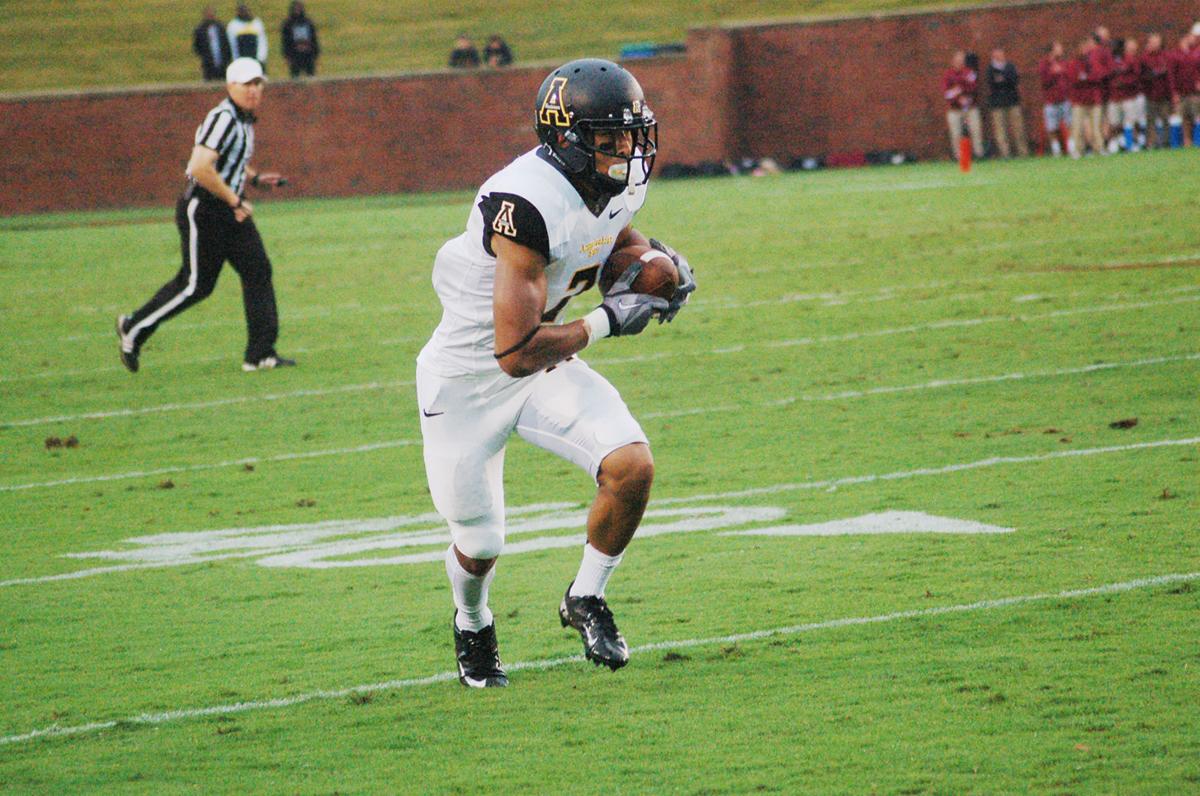 By: Steve Behr sports@wataugademocrat.com, Jan 27, 2019
ATLANTA — Malachi Jones knows what it means to work his way to the top, especially when it comes to carving out a career in professional football.
After four years of playing receiver at Appalachian State, Jones tried his hand at two levels of indoor football before reaching the NFL. However, after being signed by the Chicago Bears in 2018, he was released before the season began.
Jones could have started a permanent life without football, but chose to give football at least one more try. The 6-foot-2, 205-pound receiver got a fresh chance at pro ball when the Atlanta Legends, of the recently created Alliance of American Football league, gave him a call in January.
Jones accepted the Legends' offer to play in the new league and signed a three-year deal worth $250,000.
"This is a great opportunity," Jones said. "I am so glad that the Alliance of American Football came about. They have some great people involved and you can tell these people are trying to point this thing in the right direction and I think they've done a good job so far."
The new league, co-founded by former Buffalo Bills, Carolina Panthers and Indianapolis Colts general manager Bill Polian and television producer Charlie Ebersol, takes to the field Feb. 9.
The first game, which the Legends will play at the Orlando Apollos, will be televised by CBS. The Apollos are coached by former Florida and Washington Redskins coach Steve Spurrier, who is one of several former NFL coaches who have jobs in the new league.
Jones sees the league as a chance for players and coaches to keep developing their skills for a possible return to the NFL. There are eight teams playing 10-game schedules with four teams — two from the Eastern Conference and two from the Western Conference — making the playoffs.
Jones was able to become a Legend when former Legends coach Brad Childress gave him a call. Jones knew Childress when the former Minnesota Vikings head coach was an offensive consultant with the Bears.
"I had the opportunity to link up with coach Childress and right before he headed down to Atlanta he said, 'OK Malachi, I'd love to have you in Atlanta.' I was like, absolutely. Two weeks after I was released, I got a phone call from coach Childress and general manager Billy Devaney and they were expressing that they'd love to have me be a part of their organization and two weeks, they sent me a contract and I signed it."
Childress stepped down as head coach in early January and the team is now coached by Kevin Coyle, who is a 17-year veteran as an NFL assistant. Jones must survive a final cut-down day in order to make the final roster. Each team has 75 players in camp and must cut down to a 50-man roster.
There is just one preseason game for the Legend, who will play San Antonio. The Legend scrimmaged San Antonio on Jan. 21.
Jones is eager to start the season.
"We've had a month-long training camp, and after that last preseason game you pop right into games," Jones said. "We have a preseason game on Monday night against San Antonio and then the following week we play in Orlando for our first game. I'm definitely ready. The team is ready."
Jones stopped short of calling the AAF a development league for the NFL. He said it is a chance for him and for others to get back on film in game conditions.
"It gives a guy like myself another opportunity to play in an NFL-quality team," Jones said. "The season ends right before the NFL draft, so it gives NFL teams an opportunity to evaluate film and possibly get guys by the end of this season and by the offseason, so they have the opportunity to start with OTAs and minicamps."
Jones likes the idea of being a part of something new. He is focused on making the Legends' roster and on helping the league grow.
"It is exciting because it is an opportunity to build something from the ground up," he said. "The AAF has a great idea. I have a part of something that is brand-new that has never been done before, in my opinion. I just feel so honored to be a part of it and to build this brand so hopefully we can be growing it for years to come."
Jones has paid his dues for the chance to play with the Legends. After Appalachian State, where he caught 124 passes for 1,711 yards and eight touchdowns, Jones played arena football with the local High Country Grizzlies in 2017, where he caught 66 passes for 685 yards and 15 touchdowns. He was also named the National Arena League Rookie of the Year.
He played for the Albany Empire in the Arena Football League in spring of 2018 where he caught 94 passes for 1,439 yards and 36 touchdowns. He was the 2018 AFL Rookie of the Year and the Wide Receiver of the Year with the Empire.
Jones signed with the Bears for the 2018 preseason, but was released. Despite things not working out with the Bears, Jones was happy for the experience.
"I felt like I had a good camp," Jones said. "I came in a week-and-a-half late, so I had some catching up to do with the playbook. I feel like I was given the opportunity to make the team and I did everything in my power to make the team and didn't. But (Bears) coach (Matt) Nagy and general manager Ryan Pace are great people and they gave me advice and told me to keep going."
Jones took that advice and is a member of the Atlanta Legends.

This post originally appeared on WataugaDemocrat.com. Copyright 2019.